Click to enlarge
Art Nouveau Silver Eagle Centerpiece by WMF
Item #2402 SOLD
Art Nouveau-Deco Silver and  Cut Glass Centerpiece by WMF depicting stylized eagle on vessel.  This is a most unique and extremely rare creation, a study in contrasts. It is all at once both delicate and powerful, both "belle and bellicose". Amazing example of the transition from the sweeping styles of 1900 into the clean lines of Art Deco.
During the 1900s through the  early 1920s, a fruit or flower filled centerpiece on the table or mantle was a most popular piece of home decor. They are often fanciful and elaborate but this rendition with the chiseled features of the eagle is exceptional! Notice the removable glass insert with its zig zag edging and the utterly dynamic Jugendstil design of the silver work on the vessel.  This piece bears the WMF marks and has  the original catalogue number 309, it is fashioned of Silver plated Britania metal made in 1906. Also featured in the original WMF catalogue.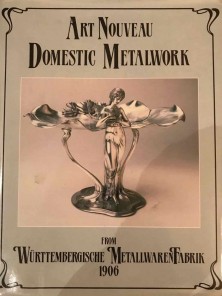 ABOUT WMF
WMF stands for the full name , the  Wurttembergische Metallwarenfabrik. a German company that was the most important exporter of household decorative silver table ware during  the early part of the 20th Century. WMF pieces cannot be attributed to an individual designer as the company was quite large and employed many artists during their Jugendstil period, however the  era of Albert Mayer, sculptor and designer and the director of the WMF Studio from 1884 until 1914 is considered the high point of its creativity.  In 1900 WMF acquired Albert Koheler's famous Austrian metalwork company AK& Cie who produced and distributed WMF items under their mark to the Austrian-Hungarian market until 1914.
Measurements
HEIGHT: 16 in. (41 cm)
WIDTH: 24 in. (61 cm)
DEPTH: 12 in. (30 cm)
Price (USD)
$ Price not available