Click to enlarge
Art Deco Lumiere Desk Light with Greyhound and Rabbit in the style of Baccarat Crystal
Item #3223
Baccarat-style glass sculpture depicting a greyhound chasing a rabbit in the art deco style. Subtle yet fine details of lines depicting one animal mounted on a chrome-fitted base. Animal sculptures are important decorative directions seen over and over during the art deco period.
This is a unique piece that would make a great accent or ambient light. The chrome box was custom made to fit this glass sculpture so there is a snug fit. The glass color is almost violet which with the correct light level gives off and almost iridescent color.
Baccarat Crystal is a French manufacturer of fine crystal glassware located in Baccarat, France.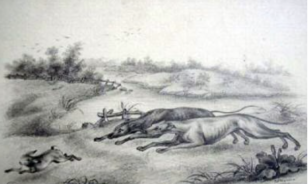 Measurements
11.5″W x 6″ T x 2.75″ D
Price (USD)
$ 1,200