Click to enlarge
Art Deco Amsterdam School Stained Glass Hanging Lamps
Item #2726
Art Deco Amsterdam School Stained Glass Hanging Lamps. Two beautiful Amsterdam School Art Deco stained hanging lamps made by 'De Nieuwe Honsel'. The stained glass lamps have a length, including the suspension, of 37.5″ but could easily be adjust to any length. Great in front of two windows, above two tables, or on either side of a painting or a (display) cabinet. The possibilities are endless.
Amsterdam School items are very rare to find here in the US. They are a synthesis of Art Deco, Art Nouveau and Arts & Crafts Design. Circa 1925. This listing is for two lamps.
Most famous is the Tuchinski theater in Amsterdam. Which is an operating movie theater, restored and certainly worth a visit.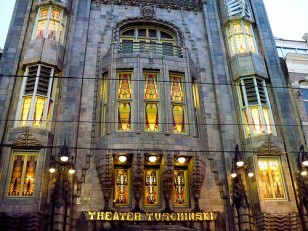 Measurements
37.5 length x 6.5″ x 6.5″ opening of the glass.
Price (USD)
$ 1,800