Click to enlarge
Paris Crocodile Skin 7 Piece Desk Set French Art Deco Complete
Item #3425
French Art Deco 7-piece crocodile skin desk set in the style of the Paris company Hermes, very fine 7- piece desk set in rich deep brown crocodile skin. May have been designed by Paul Dupré-Lafon who worked for Hermes and is best known for these highly stylized fancy desk suits. We have sold a few of these sets over the years and I am confident the quality and manufacturing is from the same factory producing Hermes. Circa 1930s.
The set is in excellent original condition and includes the following items.
1)  Desk blotter with original blotter paper surrounded with cut-out lining in soft brushed lambskin with pocket lined in jacquard silk.
2)  The notepad has a similar treatment and also includes the original paper in the pad.
3)  The Hand blotter has a very nice shape and feels, a fitted shape with metal for blotter paper in excellent condition.
4)  A pen receptacle that can hold two pens
5)  Rare ashtray holder and high-quality glass are in excellent condition
6)  3-tier brass paper, letter holder
7)  Fancy brass letter opener with leather skin handle
All the brass fittings/hinges on the notepad and blotter are in excellent condition.  Appears the set was hardly used with much of the original interior blotters and paper.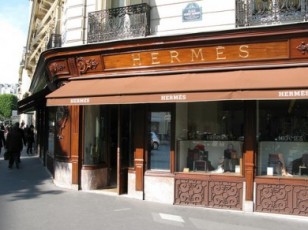 Measurements
Large blotter: 19″ W x 14″
Rocker blotter: 6.25″ W x 3″ D x 3″ T
Letter opener: 10″ L x 1.5″W
Note pad 8″ D x 8″ W
Ashtray 5.5″ W x 5.5″ T
Letter Holder 10″ L x 1.5″ D
Pen Receptacle 16″ L x 6″ D
Price (USD)
$ 5,500