Click to enlarge
Art Deco French Custom Amboyna Burl Wood with Inlay Buffet
Item #3007
Art Deco French custom buffet of Amboyna burl wood with inlay. This custom book-matched amboyna cabinet of inlaid wood in a bubble motif is accented by a thin piece of metal which encircles each bubble. There is a range of quality details throughout this piece. The additional vertical inlay on both doors, quality metal handles and matching interior wood handles. Multiple custom drawers (was used for silverware service) and storage.
The matching custom mirror on top is also a real plus for this piece. Each side supports a mirror and matches the bubble circle motif on the lower buffet and also the metal inlay. The mirror has a beautiful 1″ bevel edge going all the way around. Did I mention the unique thick and heavy beveled marble top which fits perfectly under the mirror and overhangs slighting around the top of the cabinet? Details like these continue to reinforce the quality and custom piece?
A unique piece, it originally was part of a larger dining room suite we sold about 15 years ago. At that time even as it is now, this may be one of the more unique furniture designs we've ever come across. Thanks to a very nice former customer staying in touch, gave us the opportunity to get this back, see it again and offer it for sale.
You won't find another like this anywhere.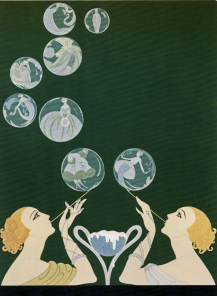 Measurements
40″ T x 22″ D x 42″ W
Price (USD)
$ 7,000