Click to enlarge
Epstein Art Deco Peach Glass Bar England 1930's
Item #3085
This stunning Epstein bar is Art Deco at its finest.  One of England's premier art deco furniture manufacturers, this restored walnut wood with maple wood interior is the finest quality you will see. Rich honey color offset with original bakelite handles gives this important liquor cabinet a place of high esteem in anyones' collection.  The fluted doors, a signature of Epstein design are some of my favorites. A unique center interior with double shelves lined in peach glass, a signature of Epstein bars. This one also has double lights.
This particular piece has extra storage on each side of the main doors. You could certainly fill it with many objet d'art worthy of Hercule Poirot's living room or your next transatlantic voyage on the Queen Mary. This is a nice size bar and can also be used to serve drinks such as martini's,  champagne cocktails, or whatever your hearts desire. Bottom's Up!
We also have the matching dining table and cloud dining chairs available
which you can check out here.
Cocktails on the Queen Mary Bar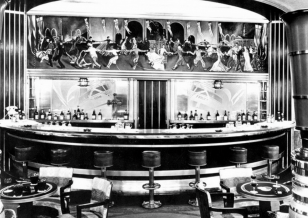 H.& L. Epstein London
Harry and Lou Epstein
The Epstein Company was founded in London in the 1890s by Morris Epstein. He and two of his sons, the 'Epstein brothers' (Harry and Lou), were designers and producers of Art Deco furniture from the 1930s to the 1950s. They were recognized as among the finest in the British Art Deco style. Many of their items were custom made with most of their pieces being produced from bleached walnut. Harry and Lou along with their brothers David, Michael, and Sidney had showrooms in London, Manchester, and Glasgow.
Measurements
60″ W x 41″ T x 21″ D (60″ With top open)
Price (USD)
$ 9,500