Click to enlarge
Thorens "Excelda" Camera phone Phonograph player circa 1930s Very Rare
Item #3383
This is an authentic Excelda portable gramophone, the portable phonograph of the 1930′s that resembled the pocket cameras of that time (usually referred to as a "Cameraphone"). It was made by Thorens, the famous Swiss manufacturer of gramophones, and sold in the early 1930′s.
This model is in blue with a metal, faux-lizard, crackly finish. The speed control is operated by a lever at the back of the gramophone. The 2.5″ turntable is covered in brown felt, and the record is secured by a screw that closes the case. The leather carrying handle is intact and in sturdy condition.  This phonograph is absolutely authentic and complete with all parts, The condition is very nice it works as new. A real collectors piece.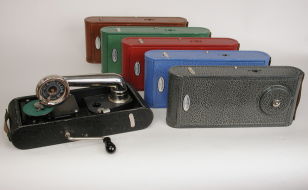 Click the record below to hear it play a sample of the sound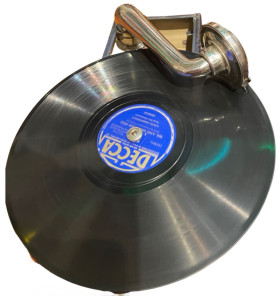 Measurements
2″ high X 11″ long X 4 3/4″ wide.
Price (USD)
$ 1,450