Click to enlarge
"Femme au Levrier" Art Deco Statue Bust by Raymond Leon Rivoire Sevres France circa 1937
Item #3261
"Femme au Levrier" Art Deco Statue Bust by Raymond Leon Rivoire Sevres France circa 1937. Rare and important bust from iconic Art Deco sculpture Raymond Rivoire. First time I have seen this piece. Manufactured by the famous Severes company stamped on the back and signed R. Rivoire on the lower part of the bust. This piece is very interesting to me, we have sold the bronze statue a few times and is one of our favorites.
To see the orgianal statue sold in the past go to this link.
The large scale version of the statue offered here by Rivoire is displayed at the back of this Grand room on the French L'Atlantique liner.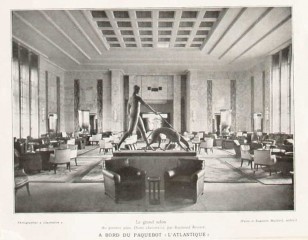 Student of Injalbert at the Beaux-Arts in Paris, he exhibited at the Salon of French artists in 1905. He received a silver medal in 1921 2 and gold in 1929. He exhibited in France and abroad (London , Rome, Buenos Aires).
He made a bronze for the Normandie liner representing Neptune pulled by a marine horse (disappeared in the fire of the ship in New York in 1942), a second copy of which still adorns a fountain in Cannes. Another of his major works is Diana and the Greyhound, also known as Artemis. Like Normandy, a monumental copy of this statue was enthroned in the living room of the ocean liner L'Atlantique. Scattered memories of the work were found during the demolition that followed this fire. Drawings can be found in several museums (Louvre Museum, Newark Museum (New Jersey, United States), as well as the Cusset Museum, which houses many of its productions.
He was appointed knight of the Legion of Honor on December 29, 1932 and decorated January 13, 1933 by Jean Gautier, Deputy Director of the National Conservatory of Arts and Crafts. At the end of his life, he was a boarder at Ris-Orangis, the artists' retirement home founded by Dranem.
Measurements
9.5″ T 7″ D 5.5″ W
Price (USD)
$ 2,600