Click to enlarge
High Deco Glass Decanter Chevron Palda Design
Item #2344
Classic Art Deco Czech Glass Decanter with matching stopper and six glasses on graceful bases perfectly embodies all the elements of style from the era.
When a client asks " I have to buy a gift for someone who loves Art Deco – what do you suggest? " I like to think of things that are iconic, emblematic…that say everything about the period and the sleek design that flourished.
If you could have just ONE thing, a perfect choice might be a 1936 Delahaye, but they are so tremedousluy expensive and there simply is no room in the garage.
A pair of black and white Borzoi Dogs would capture the spirit nicely…but that seems terribly complicated somehow. Such a responsibility!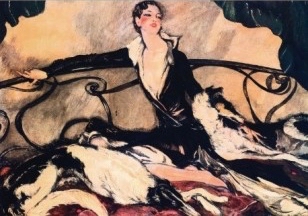 So may we recommend the one thing that "says it all" ?  A beautiful decanter and glass set  that highlights the Deco Era fascination with cocktails, that looks chic and stylish on a bar or buffet, that has the sweeping lines, the chevron shape and the crisp look of black enamel on crystal?  Yes. The one perfect thing for the aficionado of Art Deco would be this Czechoslovakian decanter set!
Measurements
Decanter 10″ tall
Glasses 3.25″ x 3.25″
Price (USD)
$ 1,200