Click to enlarge
Jan Anteunis Art Deco Female Statue Belgian Sculptor
Item #2660 SOLD
Art Deco Female bronze Sculpture by important Belgian artist, Jan Anteunis who worked primarily in the city of Ghent. It features a very detailed and unusual stylized simply clothed  woman with elaborate head dressing.and arms crossed. Great details: the treatment of the rope around the tunic, hands and feet. His bronze pieces are very rare since many were made is gypsum.
Jan Anteunis was born on March 29, 1896 in Ghent, Belgium. At the beginning of the First World War, at the age of eighteen  he moved to Great Britain. In Liverpool he visited the 'School of Art', where the young Anteunis begin to  focus on sculpture. During the war, he worked in a munitions factory for a while, until he was wounded in a bombing.  After the war, he continued his studies in Ghent at the Academy of Fine Arts, from 1918 to 1920, including lessons by Felix Metdepenninghen and Geo Verbanck .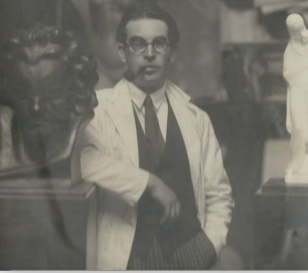 From the  1920′s onwards, Anteunis increasingly came under the influence of his teacher Geo Verbanck and his sculptures began to show Art Deco stylization. In the 1940s and 50s the sculptures of Anteunis become more modern. His career took shape in 1926 with works such as 'the head of Christ',' The Kiss' and 'Dream'. Anteunis' most substantial Art Deco public statue (pictured below) is the  "Reclining Nude" located at De Haan, Belguim. It is interesting to note that It features the same model with distinctive head dress as the piece we are offering on our website.
Measurements
24″ T x 12″ W x 4″ D
Price (USD)
$ Price not available