Click to enlarge
French Art Deco Sculpture of a Walking Lion King by Max Le Verrier
Item #2611
Art Deco sculpture of a walking lion by the famous French sculptor Max Le Verrier. Art metal of the highest quality with beautiful dark brown/bronze patina on a Belgian black marble base.This  very impressive original statue from France circa 1930. This unusual cubist inspired figurative shape seems to encompass both classic French style and  a new modern animal look. The Lion King is massive in size and a pleasure to the touch. Signed Le Verrier on the back of the leg with foundry stamp from Le Verrier Paris.
This lion statue is illustrated on page 179 of the book 
"Art Deco Sculpture" by Alistair Duncan. It is also featured in 
"Statuettes of the Art Deco period' by Alberto Shayo. 
and "Art Deco Sculpture" by Victor Arwas.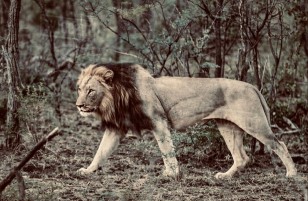 Measurements
12.2″T x 23.8″ W x 5.5″ D
Price (USD)
$ 6,800