Click to enlarge
French Art Deco Golden Bronze Sculpture by Gaston Beguin
Item #2602
A French Bronze Sculpture in the pastoral and classic art deco image of a woman and deer. Partially nude, but draped in elaborate folds of dark bronze which contrasts the brilliant gold tones of her skin and tresses. The artist is Gaston Beguin , born in Switzerland in 1892, he worked with sculptor Aristide Maillol in Paris and exhibited in the Salon D'Automne of 1919-1920.
The delicate way the hands, feat and facial features are rendered show this to be a work of high quality.  Sadly, not many sculptures by Beguin remain. This is a rare and beautiful example of the high style art deco era of his work. What is especially striking is the interplay of dark bronze patina and shining  gold tones.
This large and impressive piece bears his signature and also the foundry stamp  "CAM CIRE PERDUE PARIS"
and it was made to look like a wax seal on an official document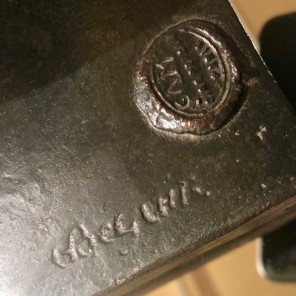 Cire perdue ( "lost wax") is a  sculptural process of metal casting that may be used for hollow and solid casting. The sculptor makes a model in plaster or clay that is then coated with wax. This model is then covered with a perforated plaster or clay mold. When heated, the mold will "lose" the wax (hence the name of the method) as it runs out of the holes in the plaster. Molten lead is then poured into the space formerly occupied by the wax. After the work cools, the sculptor breaks the mold, removes the plaster core, and files or polishes the metal product… The most important advantage of the lost-wax method is that it eases the casting of a sculpture with elaborate curves.
Measurements
21.25 "width
13″ tall
8″ deep
Price (USD)
$ 9,500