Click to enlarge
Art Deco Lion Hunter Sculpture signed Limousin 1930s
Item #3309
Art Deco Lion Hunter sculpture Signed by Limousin statue Circa 1930. Limousin 'Hunter and Lion' or Chasseur au lion. A Powerful Art Deco Study, in patinated art metal on a portoro marble base. The quality and condition overall are excellent. In the style of Chiparus's male statues with Lion and Hunter which you can see on our site here. 
This is a very rare piece showing the dynamic relationship of the fight between the hunter and lion. This theme has been repeated by different artists/sculptors of the Art Deco period. This particular rendering accentuates the dynamic power and style completed with movement and originality. The Patina also is original and the marble base with quartz veneer front is decorative and spectacular.
This is a very large piece, almost 3 feet so will require a strong suitable display area to show all of the details. The front and back are equally sculpted.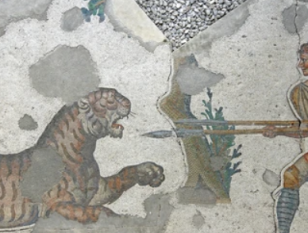 Measurements
34″ W x 21″ T x 8″ D
Price (USD)
$ 6,000