Click to enlarge
Jean Canneel Cubist Panther by Art Deco Belgian Sculptor
Item #2827 SOLD
A Cubist Panther by Jean Canneel, an important Belgian Art Deco Era Sculptor. It is a striking design showing absolute mastery of bronze work with a cat portrayed in a uniquely stylized way. It is signed in the base by Jean Canneeel , who exhibited many times in Brussels, Antwerp, Ghent and Liege as well as Paris. His work exemplifies both realism and expressionism. Inscribed 1931 with signature
Jean Canneel was born in 1889 and his earliest work was as an ornamentalist at the atelier of Georges Houtstont in Brussels. He also studied with Victor Rousseau and Charles Van de Stappen.  He fought in World War l and was seriously injured and unable to resume his sculpting until after 1920. He was the creator of the Spearman's Monument and the Memorial to Doctors at the Saint Pierre Clinic in Belgium. His work can be found in the collections of museums in Ixelles, Kaunas, Riga and Tailinn.
In 1933 he was named Director of the Academie at Saint Gilles and in 1957 he lived in the Belgian Congo where he was commissioned to create the monument to Leopold lll. He is the sculptor at the Parc du Cinquantenaire of  "L'ete" (the season of Spring)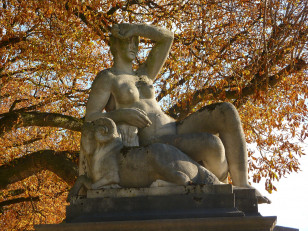 Jean Canneel was a member of an important family of artists. His grandfather was the painter Theodore Joseph Canneel . His father , brothers Eugene, Jules and Marcel and  Jean's children were also artists.
At Art Deco Collection we are able to offer two additional Canneel pieces, one by Jean and the other by his brother Eugene.
You can view  them here:
 Sculpture by Jean Canneel
Sculpture by Eugene Canneel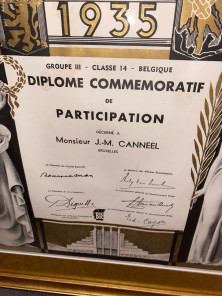 Jean Canneel (Saint-Josse-ten-Node, 1889 – Saint-Gilles, 1963)
Measurements
20″ W x 12.25″ T x 5″ D
Price (USD)
$ Price not available