Click to enlarge
Art Deco Era Dial-a-Drink Cocktail Shaker in Silverplate
Item #3225
A  silver plated "Dial a Drink" cocktail shaker with a patented design that has the ingredients and names engraved on the inner vessel with a silver sleeve that has windows to be able to show the cocktail name and recipe with just a "twist of the wrist"!
This is in excellent condition inside and out . It is a perfect addition to any cocktail shaker collection and a nice education on the cocktail names and the recipes as they existed in the "Art Deco Era" of the1930s.
Recipes include: Clover Club, Dry Martini, Dubonnet, Gin Rickey, Manhattan, Old Fashion, Orange Blossom, Palm Beach, Side Car, Tom Collins, Whiskey Sour, Alexander, Bacardi, Between The Sheets, and Bronx.
You could look them all up in a vintage Cocktail Book to find out "  Here's How" but how much more entertaining to have it all listed on the shaker itself!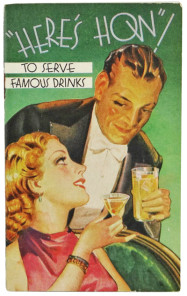 Measurements
11.5″ tall
4″ wide
Price (USD)
$ 500