Click to enlarge
Convertible Mid Century Deco Floor Lamp by Kurt Versen
Item #2457 SOLD
This flip top convertible floor lamp by Kurt Versen was created in the "Deco Era" but it certainly has all the elements of a Mid Century point of view and would be equally "at home" in either environment.
The chrome plated brass stand has a hinged top that can "swing both ways"  - up or down with ease.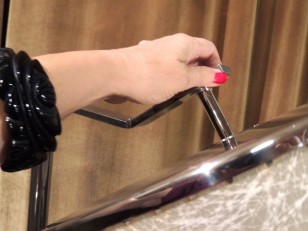 Versen  was a true modernist and his American lamps were designed in the 1930s (this example is dated 1930 for the Lightolier Company of New Jersey). Kurt Versen (1889-1943) received much acclaim for his convertible "Flip Top" lamps that were effective as both "up light" for the room, or "down light" for reading or the task at hand. Images of it can be found in the book Machine Age In America 1918-1941, in the brochures of the Versen company of 1935 as well as  the 1934 issues of Arts and Decoration Magazine.  It is often pictured in all chrome. The model we offer has an original fiberglass "parchment" shade, whip stitched in black leather.
There is a version of this lamp in the Brooklyn Museum and other examples of his lighting design are in the Smithsonian. Did you think his lamps were from the 1950s?  We did too, until we learned that he lived only until 1943 and that his "flip top lamp" can be seen in pages of magazines like these dated 1934.
The Kurt Versen Lamp we offer is pictured below
just behind the armchair and against the wall.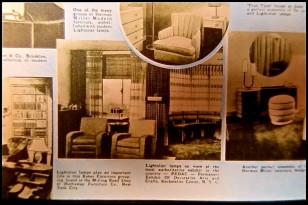 Measurements
56″ tall 19.5″ wide with 11″ round base
Price (USD)
$ Price not available