Click to enlarge
Daum Nancy Bird Art Deco Acid Etched French Monumental Museum Glass
Item #2346 SOLD
Outstanding acid etched cameo glass with bird/parrot motifs, this is an extremely rare Daum Nancy Art Deco vase. Exceptional details with triangular chevrons at the top and free flowing multiple bird designs and plant designs surround the outside of this very unusual piece.  A remarkable size and perfect in every detail.
The photos do not do justice to truly represent the size and volume of this piece.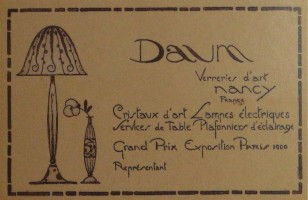 About Daum Glass
Daum excelled in the production of Art Deco glassware and its designers favored geometric forms as well as thicker and more transparent glass which contrasted with slender shapes and flowing lines of Art Nouveau glassware so popular at the turn of the century.. In the 1920s, the Art Nouveau colors inspired by nature changed to the colors which dominated contemporary abstract paintings, such as topaz, blues and ambers. Designs were increasingly monochromatic and variations of moon white, beige, glacier blue and light yellows were particularly popular. Vases, bowls and lamp shades no longer relied on the glassblowing technique but were cast and decorated with cut and acid-etched stylized patterns, as illustrated by this vase. The new manager Paul Daum was chemist by training and experimented with the use of hydrofluoric acid to vary surface textures of the glass. Towards the middle of the 1920s, friezes, volutes, curved beams or chevron patterns gave rhythm to compositions.
Measurements
9″ T x 11.25″ W x 4.5″ W at the bottom
Price (USD)
$ Price not available