Click to enlarge
Charles Catteau Art Deco Vase for Atelier de Fantasie by Boch Ceramics
Item #2811
A highly stylized Art Deco vase by the master ceramicist, Charles Catteau of Boch Pottery. The bold use of bright colors in the technique known as ceramic cloisonné makes a strong statement in this very collectible piece. The abstract tropical flora and the "crosshatch" decoration is quirky and certainly ahead of its time for a vase created in the 1920s.
Catteau  studied at the National  School of Ceramics in Sevres, France , then hired by Boch in La Louviere, Belgium in 1906 and was, within a year, chief designer.  He gained acclaim for his line "Atelier de Fantasie" and by 1925 achieved fame for his creations and displays for the Paris Exposition des Artes Decoratif.
Always deeply influenced by Japanese design in his motif , his work combines lots of geometric shapes and lyrical, floral forms applied in thick, vibrant glazes. The full height of  16″ makes this a piece that commands attention!
Style marks and the Boch Freres insignia are  stamped into the enamel.
Poster for Art Exhibition at La Louviere 
(note the ceramic pieces depicted)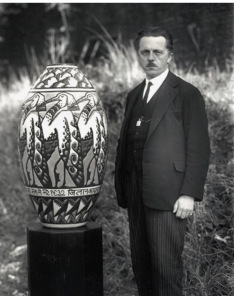 Charles Catteau and a monumental piece created for the exhibition
at the 1925 Paris Expo des Artes Decoatif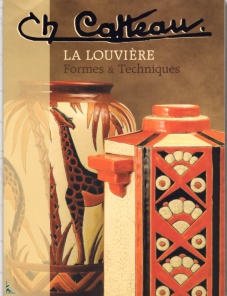 A Book on the work of Charles Catteau
Measurements
16″ Tall, 7.5″ Wide
Price (USD)
$ 1,800