Click to enlarge
Boch Freres Ceramic Vase by Raymond Henri Chevallier
Item #3332
Art Deco Ceramic Vase from the Boch Kermis Pottery works in La Louviere, Belgium, designed by Raymond Henri Chevallier. Decorated in all over multicolor "mille fleur". (thousand flowers) design with the iconic gold ball detail that lets you know the designer and era of the piece. The addition of the turquoise blue color on the inside of the vase provides an interesting contrast and is one more  signature "mark" of Chevallier.
While the most famous Artist/Design Director of the Boch Freres Atelier is Charles Catteau (whose name also appears on the base of the piece) , Chevallier was the successor to Catteau, having worked under his direction for several years and eventually taking his place from 1941-1954.
Chevallier was born in 1900, was employed by Longwy Ceramics in France. He exhibited in the Exposition des Arts Decorative in Paris, 1925 and later joined the firm of Ceramique de Bruxelles from 1935-1937.  He worked in both the "Ceramic Cloisonné" technique as well as the smooth finish accented in gilding like this large vase in beautiful condition.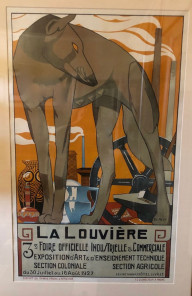 Measurements
Price (USD)
$ 1,600