Click to enlarge
Diana the Huntress Art Deco Bronze Sculpture by Pierre Le Faguays
Item #2480 SOLD
This Art Deco bronze Diana by French sculptor Pierre Le Faguays was cast in  1925 by The Susse Freres foundry in Paris France. The statue highlights exquisite detailing on a naturalistic base. The sculpture is titled, "Tireuse A L'arc," loosely translated to "The Archer's Bow". A classic oiled bronze finish with a marble base. Exquisite detailing figure of Goddess Diana releasing an arrow and pulling her bow. She is wearing a loosely draped tunic and her hand is lifted above her head poised on one foot in this classic position. "Susse Frères Editeurs Paris" is written in full on the  foundry seal. There is a picture of this model on page 424 of the book  "Bronzes, sculptors and founders" by H. Berman, published by Abage.
This bronze figure is a high quality art casting of Diana by Pierre le Faguays. In Roman mythology, Diana was the goddess of the hunt, the moon, and birthing. Furthermore she was the protector of women and girls. She is associated with wild animals and woodland, possessing the power to talk to animals and control them. She was equated with the Greek goddess Artemis.
Pierre le Faguays (1892-1962) was an Art Deco avant-garde sculptor.  Born in Nantes, France, his work was greatly influenced by the styles of the 1920s and 1930s and he is known for his figures that portrayed the elegance and beauty of the female form.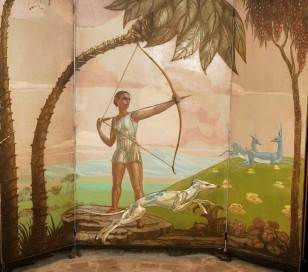 Measurements
19″ T x 7″ W x 5″ D
Price (USD)
$ Price not available