Click to enlarge
ROBJ Paris Art Deco Tambourine Dancers Bookends c 1925
Item #2435 SOLD
Robj, the Paris France firm known for its highly collectible figural decanters, bonbonniere candy jars. Robj was a master of decorative art in the early 20th Century, and much of the wares that bore the Robj name were commissioned from Limoges. These are a pair of Art Deco porcelain "Tambourine Dancers" in black, cream, henna and with gilt highlights. On the bottom they are marked very faintly with the impressed mark "Robj Paris". Art Deco porcelain female dancers on rectangular gilt bases.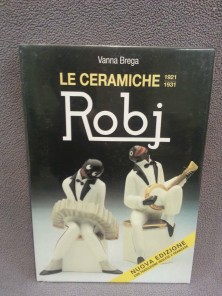 To see other items by Robj click here
Jean Born began his work in 1908 under the name he created, ROBJ. An industrial designer through the 'teens, after WWI he began to add artistic and decorative items in porcelain. He died in a car accident in 1922 at the very beginning of the Art Deco Period and a shareholder in his firm, Lucien WIllmetz took over the management. It is WIllmetz who really influenced and promoted the ROBJ style.
With the support of sculptors, model makers and technicians he created a range of "art trinkets in ceramics" which were produced through 1931. The characteristics of ROBJ pieces are very much in keeping with the styles of the times and they achieved immediate success. Perhaps the most popular items of their line were the liquor decanters introduced in 1928. Containers for tobacco, incense and bonbons were added to their lines of sculptural figurines. ROBJ pieces are whimsical but also elegant, modern and original.
Several eminent factories were employed in the production of ROBJ designs: Manufacture de Sevres, Villeroy et Boch in Luxembourg and factories in Limoges among them.
Measurements
8.25″ T x 5.5″ W x 2″ D
Price (USD)
$ Price not available