Click to enlarge
Art Deco Original Painting Mural In The Style of Jean Dupas
Item #2486
In the style of Jean Dupas, this original stunning Art Deco painting – mural was purchased in Bordeaux, France the town where Dupas lived and worked. We feel certain that this was painted by a colleague, student or Dupas himself.  Jean Dupas is one of the most important artists who was able to capture and create the spirit of Art Deco. Typically, his pieces are represented with two animals, either dogs, antelopes or gazelles in two  non-matching colors.
The ethereal background with gorgeous landscape, trees, city in the background and of course a pair of stylized gazelles . The colors are rich and soft and with size of this piece measuring 72″ long, it is a stunning example of Art Deco art from a era that continues to be intriguing . This  period piece,  painted on a wood panel , unsigned in what appears to be an original simple wood frame is reminiscent of the work often seen in the decor of movie palaces of the era.
Here are some other examples of Dupas's work where you can clearly see his hand or influence.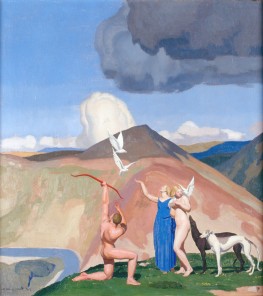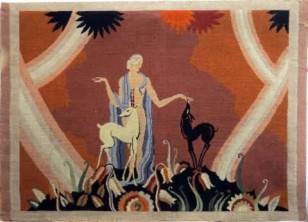 Measurements
72″ W x 44″ T
Price (USD)
$ 12,000