Click to enlarge
Sterling Silver Art Deco Italian Candlestick made by Romeo Miracoli
Item #3351
Sterling Silver Art Deco Italian Candlestick made by Romeo Miracoli. Modernist design, very high-quality details circa 1920-1940. The design treatment is unique, with a textured finish on some parts which complements the smooth finish on other parts. This is a treatment I've seen on the finest Italian tableware.
This rare item reflects the history and heritage of the Miracoli family sharing generations of artisans working in high-quality sterling and design. PIeces have been sold at Sotheby's and Christie's international auction houses.
Miracoli's silverware shop bears the title of Historical Laboratory and Shop of the City and Province of Milan. Romeo Miracoli started the ancient family tradition in 1912. Roberto and his son Renato now continue it. Each item is designed, created, hand-turned and polished inside the workshop. Tea and coffee sets, candlesticks, gravy boats, soup tureens, frames, trays, and cutlery in silver in all styles are displayed on tables and original early nineteenth-century showcases.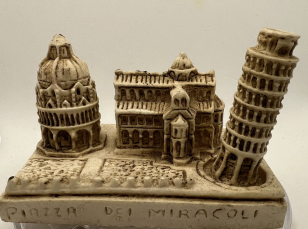 Measurements
10" wide x 8.5" tall x 5" deep
Price (USD)
$ 2,500