Click to enlarge
Ilonka Karrasz Industrial Design Modernist Pair of Bowls
Item #3117
Ilonka Karrasz, an important industrial designer, worked also as an illustrator creating many covers of The New Yorker. Offered here is a stunning pair of matching metal vases or containers that bear the mark of the designer's initials on each piece. The work is amazing and mirrors very much the work of the French company Desny. With the use of 90-degree edges intersected with round edges and forms. Very strong and powerful use of metal and design.
This is a chance to own a real piece of cultural and industrial design history. Ilonka Karasz was an amazing force in the design work.
Ilonka Karasz (July 13, 1896 – May 26, 1981), was a Hungarian-American designer and illustrator known for avant-garde industrial design and for her many illustrations. Her life and work have been celebrated in many ways. She studied art at the Royal Academy of Arts and Crafts during a period when the reigning aesthetic owed much to the Wiener Werkstätte and was one of the first women to be admitted to the school. She immigrated to the United States in 1913, the year of her 17th birthday, and began to make a career for herself in New York City's Greenwich Village, where she established herself as an influential practitioner of modern art and design. In 1914, Karasz co-founded the European-American artists' collective Society.
Modern Exhibits in the Metropolitan Museum of Art in New York, The Cooper Hewitt Museum https://www.cooperhewitt.org/channel/ilonka-karasz
There certainly has been much written and admired about her career.
https://daniellaondesign.com/blog/remembering-ilonka-karasz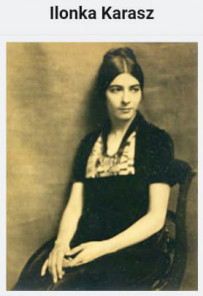 Measurements
5″ T x 7″ W x 7″ D
Price (USD)
$ 7,500