Click to enlarge
Complete Silver Set in Wooden Chest by Calderoni Fratelli
Item #2797
A complete twelve-piece silver service for twelve in beautiful condition from Calderoni Fratelli of Milan Italy.  The set contains a total of 153 pieces and all of it housed in a custom wooden chest with felt-covered fittings to hold each piece in place.
Calderoni Fratelli (Calderoni Brothers)  metal works were formed in 1851 and is perhaps most famous for their later work of designer Gio Ponti in the 1940s-1960s. This set dates from the 1930s and shares the stylistic point of view of French designers Ravinet d'Enfert.  Sleek, streamlined with just simple and elegant detailing this is a set to use as well as treasure.
Each place setting contains dinner knives and forks, luncheon knives and forks and dessert knives and forks as well as tea, soup and service spoons and nine beautiful serving pieces.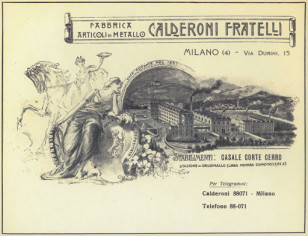 Original advertisement for Calderoni
The wooden chest has three drawers, and a clever system to hold the sewing pieces in place in the lid when it is raised
Two cabinet doors close and lock in front for a finished look.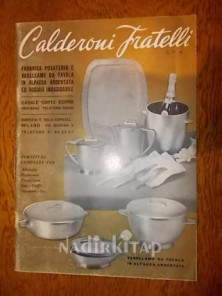 Later Calderoni Fratelli Catalogue
Our Set is Comprised of :
12 Dinner Forks12 Dinner Knives
12 Luncheon Forks12 Dinner Knives
12 Dessert Forks12 Dessert Knives
12 Fish Forks12 Fish Knives
12 Soup Spoons
12 Table Spoons
12 Tea Spoons
12 Butter Knives
and
2 Serving Spoons
1 Cake Server
! Fish Knife and Fish Fork Servers
1 Salad Fork and Spoon
i Meat Fork
1 Very Large Ladle
Measurements
chest is 23.5 "wide
17″ deep
11 " tall
Price (USD)
$ 6,500