Click to enlarge
Art Deco Grand Silver Chalice in Style of Hoffman
Item #2383
This monumental French silver chalice in the style of Hoffman can be a decorative piece for a tabletop, filled with fruit and flowers, or simply as a piece to be admired. This one, in delicately handcrafted silver, is stamped on the bottom with the initials" A G " and " France" and it dates from the 1920s.
Designed in the style of Joseph Hoffman.
A chalice is a special cup of the grand size used in nearly every religion on earth for a ceremonial purpose:  to hold sacred wine or sacred waters, to convey a blessing, and even the occasional curse.  The "Silver Chalice" is also the name of a great novel, and then later a film starring Paul Newman, set in Rome with a quest by Julius Caeser to find the chalice used at the Last Supper. His orders? To seek and destroy it.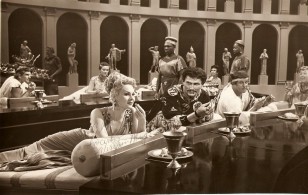 The chalice offered by Art Deco Collection is a perfect addition to adorn your table or mantle.
Your orders?  Seek and enjoy it!
Here are two examples of a chalice as a centerpiece: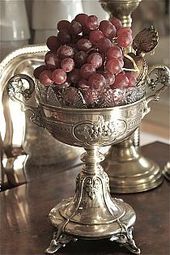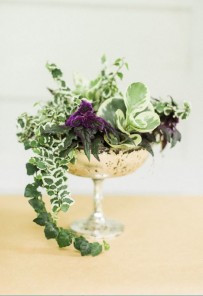 Measurements
13″Tall x 9.5″ Wide
Price (USD)
$ 2,500