Click to enlarge
French Art Deco Modernist Vase by Maison Desny
Item #3062 SOLD
French Art Deco Modernist Vase by Maison Desny designed circa 1930. This unusual piece, extremely rare is inspired by the shape of Transatlantic ships, with exceptional use of form and function. The bow of a boat, the smokestacks on top, or just the perfect sense of an elegant martini glass.
The firm Maison Desny is recognized for its innovative and resolutely modern objects, especially lighting fixtures that incorporated glass and chrome-plated metal; they also produced silverware, bath accessories, carpets, and murals. They favored plain, highly polished surfaces of chromed or nickel-plated metal.  The business was started around 1927 but was negatively affected by political events in Europe, and unfortunately, closed in 1933. Information on the history of La Maison Desny remains vague, it appears that Maison Desny was established by two designers, Desnet and Rene Nauny, from whose names the contraction of "Desny" was derived.
Although the firm's background has remained uncertain, the quality of its modernist designs has not. The juxtaposition of perpendicular shapes and planes, which recur in the firm's creations, provides a ready form of identification. This piece is also signed on the bottom DESNY PARIS made in France DEPOSE.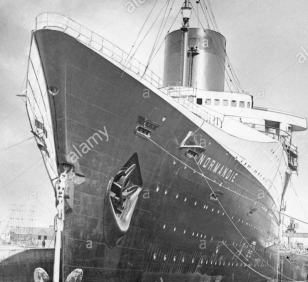 Measurements
14″ T x 8″ x 8″
Price (USD)
$ Price not available