Click to enlarge
French Art Deco Centerpiece by Sue et Mare for Christofle - Gallia 1930
Item #2483 SOLD
Christofle 'Gallia' metal and glass centerpiece degined by Sue  et Mare circa 1930. Faceted thick cut glass original liner supported within silvered metal mounts with scrolling handles and facted base. Stamped with  Gallia Christofle marks, numbered 5830.  This piece has been completely restored with new silver-plating.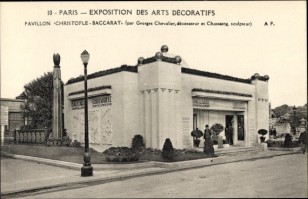 SÜE ET MARE
The spirit of collaboration was alive in the age of Art Deco. Louis Süe and André Mare were able to shape trends in the shift from Art Nouveau to Art Deco and beyond. Their designs, inspired by Cubism, excited the Paris Salon of the time and remain relevant even today. The outbreak of the First World War briefly interrupted the two men's collaboration. Süe was drafted into the French Army and served in the Greek campaign. Mare, meanwhile, developed new camouflage techniques for the French, British, and Italian armies using his knowledge of Cubism.
Working primarily as decorators and furniture designers, Süe and Mare did find time to continue participating in exhibitions, particularly the 1925 Exposition internationale des arts décoratifs et industriels modernes, where they constructed an actual museum of contemporary art. While adhering to the Art Deco style, their designs were more conventional, harking back to the Louis XIV and earlier periods, and less focused on geometric intricacy. Highly decorative, their pieces featured flair such as sculpted floral and fruit motifs, scalloped edges, and inlays of ivory and mother of pearl.
Measurements
20″ Wide x 10″ Deep x 3.75″ T
Price (USD)
$ Price not available