Click to enlarge
Napier Silver-plated Penguin Cocktail Shaker 1936
Item #2993 SOLD
Iconic Napier Cocktail shaker restored and designed by Emile Schulke in 1936. The penguin has become one of the most popular figural shakers, this is an original, not a reproduction!  It comes with a detachable top and the peak opens up show original cork stopper. It is stamped Napier Pat with a number on the bottom and is in amazing restored condition. Original silver-plate,  professionally polished and very clean and a very rare model.  A must for the advanced cocktail shakers collector!
A recent 2013 Christie's auction resulted in a sale for one at over $8000 dollars.
From Original Patent Application.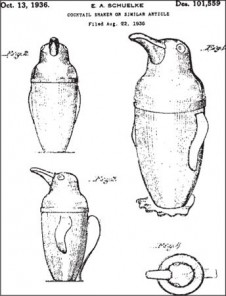 To See another non-Napier original Penguin shaker with glasses:
click here:
Price (USD)
$ Price not available