Click to enlarge
Art Nouveau Polished Brass Champagne Cooler
Item #2701 SOLD
An Art Nouveau Champagne Bucket of exceptional quality in polished brass. This wine cooler has a lovely shape that billows at the top and has a pressed  Jugendstil/Nouveau design embellishing the edge. "Trophy" handles add to the style. This piece designed by Albert Mayer for the WMF company of Germany is listed in the book on Art Nouveau Domestic Metalwork of 1906, and is part of a permanent collection of  Decorative Art in Miami, Florida.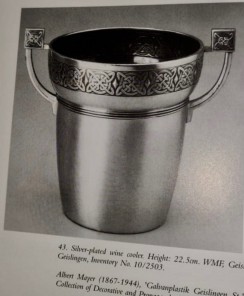 For inspiration:  Consider not just using this piece to chill a bottled beverage, but to use it with flowers
( or, even better, use flowers and grapes)
to create a unique centerpiece.
Measurements
9″ Tall
8″ wide (11 " wide with handles)
Price (USD)
$ Price not available