Click to enlarge
Napier Mid Century Silver Cocktail Shaker
Item #2268
A Napier Cocktail Shaker highly prized and sought after by collectors, it is as  "Dapper as Don Draper " on Mad Men.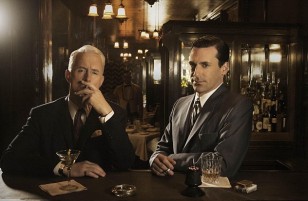 In contrast to the variety of other silver plated shakers  ( definitely our specialty ) this is nearly devoid of any ornamentation at all. It is elegant in its simplicity, and bearing an important  makers mark and name in silver design.  Napier Company had it's roots in the E.A. Bliss Silver Co. founded in 1878 in Massachusettes. But when James Napier became president of the company in the early 1920s it was changed to Napier. He traveled to France to view the 1925 Paris Exposition des Artes Decoratif and was greatly influenced by the "art deco" movement. Although he was not a designer, he promoted the style within his firm, often sending his jewelers and designers to Europe as well.
This shaker is a Mid Century piece .  A nice feature is the built in strainer, and the fact that  top of the shaker can be inverted and used as a drinking glass!
Measurements
9.25″ tall
3.5 " wide
Price (USD)
$ 500