Click to enlarge
Golf Bag Cocktail Shaker Art Deco by George Berry International Silver
Item #2223
Important silver plate cocktail shaker in the shape of a golf bag, ca. 1930. Highly esteemed Art Deco shaker for the advanced collector.  Cylindrical shape with canvas-textured ground. Strips suggestive of a stitched leather treatment applied vertically to body and horizontally at rim and foot rim as well as belted around body. Scroll handle terminating in applied pouch. Cover is raised with ball finial. Diagonal spout with built-in strainer and cap. Near bottom is engraved F.H.G.C. Class C Championship 1931 A. Flock.
Ladies celebrating the men are out golfing!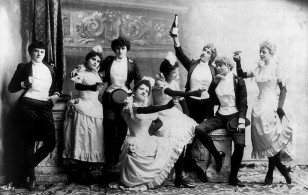 Important and  great nostalgia piece. Hallmark for Standard Silver Co. of Toronto with no. 86/2. Based on design by George Berry, International Silver Stamp. Excellent condition with rich patina.
Measurements
13″ T x 6″ W 3″ D
Price (USD)
$ 3,400