Click to enlarge
Chase Copper Spiral Bookends
Item #3000
Rare Art Deco Modernist  Chase Copper Bookends by Walter Von Nessen. This original pair of bookends was recently hand polished, the finish gleams with a natural look. Clearly signed Chase on the metal, these are in amazing condition for their age!
The spiral form also references the classic deco image of a stylize fountain that was used during the Paris Exposition of 1925 and found its way into
many decorative applications through the 1930s.  These bookends from 1938 have a touch of that element.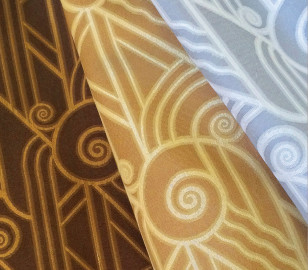 Classic Art Deco Motif
Chase Brass & Copper company did some amazing things during  its early existence. Chase was a major producer of industrial brass and copper products. But during the 1930′s, the company developed and marketed a line of housewares and gift products sold through stores across the country.  Many Chase products incorporated the clean, modern style so prevalent during that era. Chase commissioned important industrial designers of the era to develop products for the line including Walter von Nessen, Russell Wright, Ruth Gerth, Lurelle Guild, and Rockwell Kent, representative of some of the best design talent available at the time.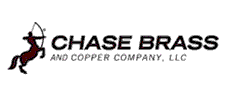 Measurements
5.25T x 5″ W x 2.3/4D
Price (USD)
$ 950