Click to enlarge
Art Nouveau Silver Vase with Hammered Details
Item #2781
This tall Art Nouveau silver vase with hand-hammered details was made in Germany in the early 1900s. Designed by Carl Deffner of Esslingen,  who was born in 1856 and took over the management of his father's metalware factory in 1900. Three generations of Deffner family operated their metal works from the early 1800s until 1959 but it was this period of the 1900-1920s that is most notable.
Carl Ludwig Deffner was part of the German Secessionist movement that created flowing and undulating shapes in brass, copper and silver- often using mixed metals in his designs done with a "Jugendstil" point of view.  Graceful and curled appliqués are the decorative element. The mark is a coat of arms cartouche containing the letters 'CDE' between crossed axes.
The piece was purchased in Argentina, a country known for its own silver works but one that imported tremendous amounts of silver goods from Germany between 1900 and 1930. Even though our specialty is always "Art Deco", our trips to Buenos Aires have introduced us to the lavish and fanciful art, architecture and design of Art Nouveau…something we can't often find in the United States.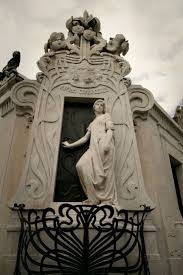 Buenos Aires Art Nouveau
Measurements
15.5 " tall
7.5″ wide
Price (USD)
$ 1,800