Click to enlarge
Art Deco Game Table Complete with Chess Roulette and More!
Item #2466 SOLD
An ultimate game table, beautifully made with a highly polished convertible mahogany top that rolls back to reveal a host of game pieces beneath and flips over to a richly inlaid wooden checkerboard.  This is a player's delight with  games including the classics – Roulette, Checkers, Chess and Dominoes but also has some amusing additions such as Steeplechase Horseracing and Spanish Dreidel !
Crafted in Argentina in 1940, the wood has been painstakingly refinished, the  contents have been saved in good form. Fitted compartments inside hold all the pieces in place:  a small but authentic roulette wheel, a pair of bakelite dice, vintage metal jockey markers and more. There is a full sized felt topper for craps and roulette that can  be unrolled and  be placed on your dining table or floor while the wheel remains nestled in the game table. Original instruction booklets (en Espanol) are tucked inside for "Ruleta" and AJadrez (Chess).  The mounted paper board for "Steeplechase" is in excellent condition.
Perhaps the most lavish addition is the hundreds of  vintage bakelite gaming chips in the widest array of shapes and colors imaginable. Not just the red and blue we often see but  pink, yellow, steel grey, forest green, burgundy and more!
The woodwork is so nice- with curved sides, tapered legs and discreet
wheels so you can roll it into place when ready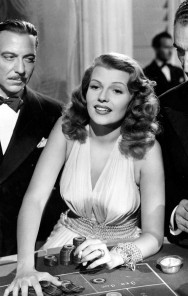 "Que suerte ! " (How lucky can you get?)  
Bring this home and let the games begin!
Measurements
30″ tall
20″ x 24″ top
Price (USD)
$ Price not available