Click to enlarge
Art Deco Leaping Gazelles Ironwork with Glass Lamps
Item #2250 SOLD
These iconic Art Deco ironwork "leaping gazelles" were fashioned into lamps especially for us using the French technique of fer forge hand hammered metalwork . We made these as an homage to Edgar Brandt and his famous screen designed for the Exposition des Artes Decoratif held in Paris in  1925.
Dramatic and powerful, they sit on a marble base with fluted iron and are topped with vintage seafoam  green glass shades.
We feel so fortunate  to have found an artisan with the ability to do this kind of creation. Its hard to imagine how difficult it is to work with wrought iron…and to make it appear so beautiful and graceful and to evoke the style of those who mastered it in the art deco era. The leaping gazelle is a symbol of that time as well…moving with grace and speed.
Edgar Brandt designed and fabricated these amazing gates for the Paris Exposiion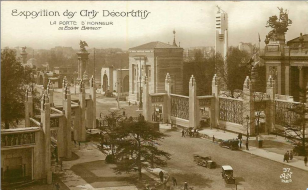 Edgar Brandt designed this fire screen
and here is the one we had custom made for ArtDecoCollection.com
Measurements
17.5 inches tall
17 inches wide
(base is 11.5 inches wide and 7.5 inches deep)
Price (USD)
$ Price not available