Click to enlarge
French Art Deco Modernist Cave Bar
Item #2375 SOLD
French Art Deco CAVE bar. Unique compact design with a modernist twist. Closes down to a simple rectangular elegant form. Artfully veneered in Macassar and Abedul hardwood. This unique bar could be used in just about any room in the house. Original label/tag says, "La Cave A Cocktails" Made in France.  This unique shape allows your to stow away the compact bar or open the top (which is supported by the base) to display your champagne, bucket, wine and glasses.
The first tier allows for storage of assorted and different glass shapes while the 2nd lower area works like a drawer which will assist and accommodate as you pull out at least 12 bottles of your favorite drinking libations. Ivoroid key hole cover with original key.
Pretty cool, pretty compact and pretty amazing. There I've said it: "three for the price of one"!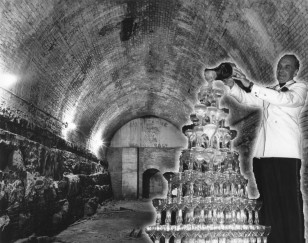 Measurements
Closed: 28″ T x 16″ W x 16″ D
Top only open: 32″ D x 16″ W 13″
Top and bottom both open 45″ D
Price (USD)
$ Price not available