Click to enlarge
Art Deco Ironwork Side Table with Portoro Marble Top
Item #2554
Spectacular Art Deco  Iron Table, custom made for ArtDecoCollection.com in the original "Fer Forge" French tradition with a top made of richly veined Portoro Marble. The ironwork is a faithful rendition of the style made popular by Edgar Brandt, with floral motif, hammered details and legs that curve into a second tablet of marble at the base.  There are so few people in the world who can execute this technique and we are so pleased to be able to offer something so special  to our clients.
Not only is it rare to find  creations of iron like this, but contributing to the rarity is the use of Portoro marble which can only be found in such limited quantities in current times. It is important to note that Portoro marble was formed millions of years ago in the Cretaceous Period and relatively little remains today.
It was used extensively in the Roman Empire, in the churches of the 17th century , then gaining tremendous popularity in the 19th Century in Europe, the United States and South America. But Portoro only comes from Italy, and as the supply diminishes there are only five existing quarries that still are able to remain "active". And those in La Spezia, Italy are the only sources of marble so ntricately woven with gold and peach colored streaks in a deep black background.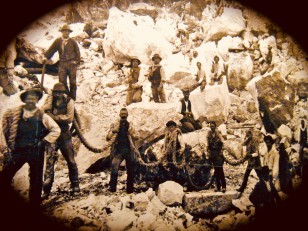 italian Marble Quarry Workers in La Spezia , Italy 
Measurements
22″ in diameter
23″ tall
Price (USD)
$ 4,200