Click to enlarge
Art Deco Secret Bar with Mirror Topped Table
Item #2293
A sleek round table with a hidden bar cabinet was "all the rage" in the Art Deco Era. In this piece, a beautiful walnut cabinet has two compartments to hold bottles and glasses, nice shelving on the exterior for display, and an etched round mirror as it's top. The interior is in nice condition, the mirror has a bit of "foxing" which does give it character and the wood is highly polished.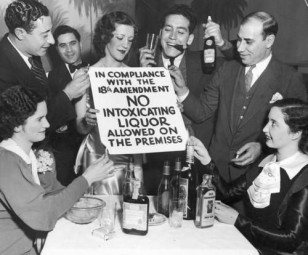 Beginning with the demands of Prohibition in the United States, and also reflecting the French prejudice against "cocktails" (in favor of wine) , the concept of tucking liquor away in a piece of discreet furniture gave rise to many creative ways to conceal a "bar" as something else. One of our specialties at ArtDecoCollection.com  is restored "Radio Bars" for example, but a bar could be hidden in a desk, a barrel, a globe or any item of furniture that would not (at first glance) reveal that it held a bar, bottles, and glassware inside.

 French Propaganda Poster by Paul Iribe to show a skeleton holding a cocktail shaker…and promoting wine as the better choice! 
To see one of the "Radio Bars" we have restored, click here:
Measurements
29.5″ diameter and 25″ tall
Price (USD)
$ 3,500