Click to enlarge
Art Deco Custom Full Bar Streamline Neon Storage
Item #3004
Art Deco custom stand behind bar in streamline design using top quality materials throughout. Impressive and thoughtful design built about 20 years by 3 Cuban carpenters who had relocated to Miami. It was completed over many months. Red Oak and Maple among other woods, the foot rail is stainless and brass with selected high-grade marble that harmonizes with the wood and all open edges have a rounded "bullnose" shape. The 4 barstools also custom made and were imported from Italy.  Also, the seats swivel.
There is recessed lighting surrounding the two mirrors which serve as background for the glass shelves which are positioned in front of the mirrors, these shelves can be used for decorative bar items as well. The neon recessed lights are bent (circular) to the outline of the mirrors and are dimmable. The back bar has several drawers above (for bar utensils ) and two large cabinets below with additional shelves and double doors for additional liquor storage.
There are two matching shelves that run along the underside of the front of the bar to store bottles, glassware and any other items you might want to use for your personal bar. Just added green glass olive style cocktail knobs and new polished thick green glass shelves. Just completed a hand made art deco beer tap, one of a kind. There is an electric Kegorator which can accommodate 1/4 keg with accessory to provide pressure for the keg, it has never been used. This could also double as a refrigerator.
Imagine yourself with a pack of good friends sitting and gathering around this spectacular one of kind Art Deco bar, sharing your favorite cocktails and music, a sublime experience awaits you.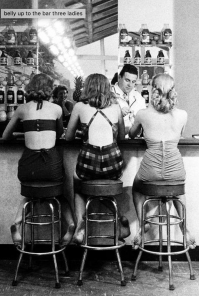 Measurements
Approximate Size:
Back Bar is 10 feet wide and 7 feet tall (in two pieces)
Front Bar is 8 feet wide and 36 inches deep.
The total depth from the wall is approx 5 feet.
Price (USD)
$ 32,000