Click to enlarge
Zenith Art Deco Radio Model 808 Tombstone (1935) Bluetooth
Item #3124
Zenith Art Deco radio Model 808 Tombstone (1935) with capabilities Bluetooth. 
The cabinet has been professionally refinished with a nice satin luster. This model is in the rage of the times with a likeness of a skyscraper. The radio retains all of the factory-installed knobs and zenith reproduction speaker cloth. The original dial looks great with the Zenith logo and unusual radio signal hands.
The radio offers am and shortwave. Installed with a mini-jack and the option of a BLUETOOTH. This will allow you to use this with your iPhone, smartphone, iPods, or record player. Access your old vinyl, or log on to Spotify, Pandora, Apple Music, or the playlist on your computer to provide the tunes and use the Bluetooth connection to bring the warm, bright, analog sound of a tube amplifier to any music or recordings you choose. The quality of the sound is excellent – just ask any guitarist since these kinds of tube-based amps are still being made and used today. You will have the best of "digital" and "analog" combined.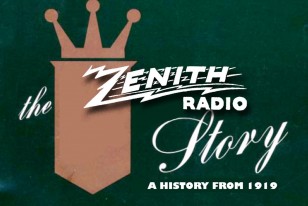 Measurements
17″ high x 12.5″ w x 9″ D
Price (USD)
$ 1,800