Click to enlarge
Sparton 1268 Selectronne Console 1938 Radio Bluetooth
Item #3268
Sparton 1268 Selectronne Console 1938 Radio. 12 Tube model 
a great performer, with magic eye tuning tube and the multi-colored dial has three bands. The complete

 electronic restoration was performed, original knobs and 1/8th inch input plug added to be able to use with Bluetooth transmitter or other hardware to play music using the original restored chassis. Beautifully restored wood cabinet with an Art Deco Flair, in like-new condition. The sound is great and ready for another 50 years.
  We have completely refinished the cabinet and have restored the electronics for optimal enjoyment and also added a 1/8 inch adapter which will allow you to use this with your iPhone, smartphone, iPod, or record player. Access your old vinyl, or log on to  Spotify, Pandora, Apple Music, or the playlist on your computer to provide the tunes and use the Bluetooth connection to bring the warm, bright, analog sound of a tube amplifier to any music or recordings you choose.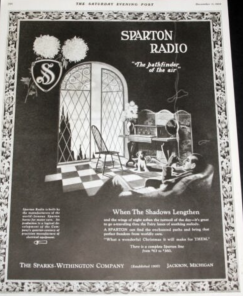 Measurements
42″ T x 24.5″ W x 13″ D
Price (USD)
$ 4,000