Click to enlarge
Art Deco Peach Mirrored Electric Clock
Item #2996
An Art Deco Clock with a General Electric movement and an etched peach mirror face with a stylized  design.  This clock has an unusual shape… the face in a wide oval set in a translucent peach glass "demilune" trimmed in copper.  Neither round nor square (as are the vast majority of clicks) this beauty has a great presence on a mantle or desk.
The design, sometimes thought to have been created by Walter Dorwin Teague was actually the work of   John P. Rainbault, who was also the in house designer for rival clock company Telechron but the embellishment on the face of the clock is something Rainbault utilized in three different deco clocks" a kind of stylized tropical leaf pattern. There are several clocks of his design that share other decorative elements and "high style".
There is a tiny bakelite button on the front with the General Electric logo. It has an extra-long cord and plug. It is stylish and dramatic.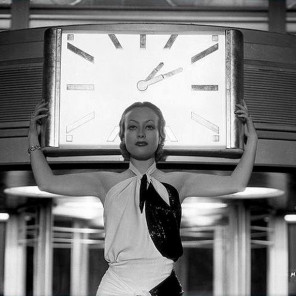 Measurements
17 inches wide, 7 inches tall
Price (USD)
$ 950