Click to enlarge
Ceramic Craquelé Black Jazz Band by Pierre Blanc cubist
Item #2639 SOLD
Rare Sculpture of Black Jazz trio sculpted in ceramic and styled from the Art Deco era, circa 1930. This rare sculpture depicts a European view of the hot jazz age, horn, banjo & drums. All 3 images are integrated with an angular cubist style. Signed by the artist Pierre Blanc on the back in excellent condition.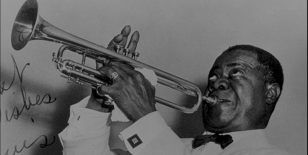 Artist Pierre Blanc (1902-1986)
Swiss born, worked throughout Europe. Worked from 1924 to 1925 to decorate the headquarters of the Swiss Federal Tribunal in Lausanne, then moved to Paris in October 1925 where he resided until 1939. It is in Paris that he takes a liking to animal sculpture by attending the Botanical Garden and the Vincennes Zoo where he studies animals on the spot. He then becomes associated with François Pompon and becomes a practitioner in the studio of José and Jean Martel. During this period, he participated in the Salon d'Automne (1928-1931) where he exhibited two bronze, Ostrich and Bison1, the Salon des Artistes Décorateurs (1930) and the Tuileries (1930, 1931, 1938).
In 1939, he left France and moved permanently to Lausanne where he organized several exhibitions. He received many commissions from his hometown. After the war, he returned to a more conventional figurative sculpture.
Measurements
13″ W x 10″ T x 4″ D
Price (USD)
$ Price not available