Click to enlarge
Complete Set of Art Deco Baccarat Glassware
Item #2806 SOLD
An Art Deco era set of Baccarat glassware with a decanter and 32 glasses in four sizes for your drinking pleasure!   This unusual set in an alternating smooth and textured argyle pattern is in beautiful condition and ready to use for a variety of entertaining.
There are eight very small glasses for "shots" of tequila or sweet liqueur, eight small glasses for spirits, larger glasses for whiskey or wine and stemless champagne coupes (that are also perfect for ice cream). 25 pieces in total including decanter.
Baccarat is perhaps the most famous name in glass tableware, having been founded in 1764 and in production for centuries in France with
distribution worldwide.  During the first half of the 20th Century, Baccarat was imported to Buenos Aires by a number of small high-end shops but most notably by Harrod's Department Store. In fact, the spectacular chandeliers that once graced Harrods were made by Baccarat and the chandeliers and torchieres in the opulent Palacio Duhau in Buenos Aires also were created by Baccarat.
The set we are offering was made in France, bears the Baccarat insignia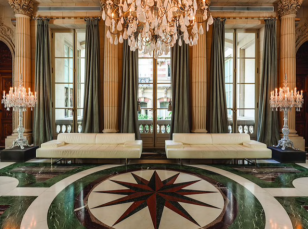 Baccarat Glass at Palacio Duhau (Hyatt Hotel) Buenos Aires
Measurements
Decanter 8″ T x 5.5″ W x 5.5″ D
Glasses:
1) 3.25″ T x 3″ W x 3″ D x8
2) 2.5″ T x 2.5″W x 2.5″ D X 8
3) 2″ T x 2.5″ D x 1.5″ W x 8
4) 2.5″ T x 4″ W x 4″ D x 8
Price (USD)
$ Price not available