Click to enlarge
Art Deco Whiskey Set in Red and Black with High Ball Glasses
Item #2622 SOLD
This Art Deco Whiskey Set in red and black with hefty high ball glasses is among the best we have ever seen. While most Czech decanter sets feature very small matching glasses- enough for little more than a shot of liquor, these beautifully etched and bold patterned pieces are made for serious drinking and entertaining.
Large enough to accommodate an ice cube and a generous pouring of your finest Bourbon and a spritz of soda in the 8oz glass.  This is the set that won't sit on the buffet as mere decoration. This is the set to bring out when "company comes" to a cocktail party in your home. Strong, elegant and masculine  design of red and black squares and rectangles  with a decorative stopper makes this the darling of deco aficionados and mid century fans alike.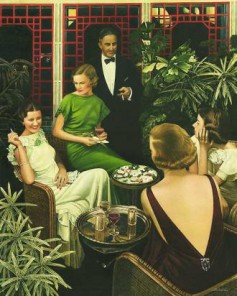 The set contains a decanter and the full set of six glasses.
Cheers!
Measurements
Decanter 10 inches tall, 5 inches wide 3 inches deep
glasses 3 inches tall, 3 inches diameter
Price (USD)
$ Price not available