Click to enlarge
Lachenal Unique Ceramic Art Deco Museum Quality French Pottery
Item #3013 SOLD
Lachenal Unique Ceramic Art Deco museum-quality French pottery. This very important piece is part of a long legacy by the Lachenal family which started with Edmond Lachenal (3 June 1855 – 10 June 1948) who was a French potter. He was a key figure in the French pottery movement, and his works are held in many international public collections. His son, Raoul Lachenal worked in his father's studio until 1911, when he established a new workshop at Boulogne-sur-Seine. While some of Raoul Lachenal's Art Nouveau ceramics resemble pieces by his father, he also produced distinctive stoneware that can hold its own against works by master glaze artists like Ernest Chaplet and Albert Dammouse. At his best, Lachenal can rightly be compared to these important figures of the French art pottery renaissance.
Edmond Lachenal (centre) and sons, Raoul (left) and Jean-Jacques
While doing our research on this piece, I am extremely impressed with the quality and handwork completed which certainly connotes this as a "unique" piece, one of a kind as assigned on the bottom. The faïence stoneware has depth, using variations of color, line and metallic glazes. The size is impressive and from what I have learned in the research, this powerful example illustrates many of the strong characteristics associated with the first high period of Art Deco around 1925. Raoul is also associated with works shown at the Internationale des Arts Decorations in Paris. His work has been shown throughout Europe and featured in many books on art pottery.
We have specialized for close to 25 years marketing both Longwy and Boch Freres ceramics (French and Belgian). This piece certainly draws the comparison for me and more directly to the style and art direction of Charles Catteau for Boch during this very important high period for European pottery of the period.
The work is original, one of kind, and why it is markedly unique. You can see the depth and tradition from which this work has evolved.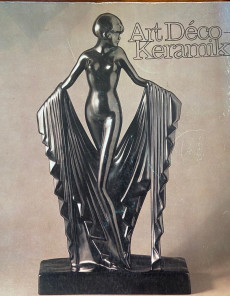 His work has been represented in many books and magazines on Art Deco ceramics. Numerous publications please contact for more details on this.
Measurements
14.5 inches Tall x 10″ Wide
Price (USD)
$ Price not available