Click to enlarge
Catteau Boch Freres Art Deco Geometric Stoneware Vase
Item #2818 SOLD
Charles Catteau Boch Freres Art Deco Geometric Stoneware Vase. Rare and unusual ovid shape. Identified in the definitive catalog by Marc Paron on the life's work of Charles Catteau on-page #454.  Stoneware vases like these with a geometric pattern are extremely rare. Sophisticated shape and colors of black, cream,  dappled brown with black interior. For Catteau, the influence of Japanese art was possibly the most profound. This can be observed in his use of vibrant, pure colors and forms; the stylized treatment of figures and symbols; and his careful application of decoration — all suggestive of Japanese ceramic technique. In addition to Japanese art, some of Catteau's vases reflect a primitivism often found in African art.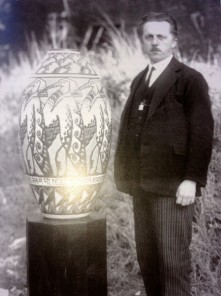 Charles Catteau exhibiting a monumental piece 
at the Paris Exposition des Artes Decoratif 1925
Catteau was considered the master of Art Deco Design, and his work predates the explosion of the style in the 1920s. He was trained in the famous ceramics school in Sevres, France and then in 1906 hired by Boch Pottery a venerable company in business since the mid-1800s but looking for a fresh direction.
He was featured in the Paris Exposition of Artes Decorative in 1925, by then creating hundreds of pieces every year with distinctive shapes and forms.  A team of artists worked with him, applying the pigments to his designs that merged geometric and floral embellishment. In the past twenty years, many books, publications and exhibitions have highlighted the major accomplishments of Charles Catteau. We are pleased to be able to offer a nice collection of his work, and we have this design available in two sizes.
Measurements
7″ T x 7″ W x7″ D
Price (USD)
$ Price not available