Click to enlarge
Hagenauer Carved Wood with Bronze Base Sculpture Head of African Woman 1930
Item #3102
Hagenauer Wood Sculpture Head of African Woman. This beautiful sculpture was designed and manufactured by Hagenauer in Vienna in the 1930s during the Art Deco era. It shows the head of an African warrior and is made of finely carved wood, with some bronze base and brass details.  Stamped on the base WHW (Werkstatten Hagenauer Wien), Made in Austria, Handmade, Hagenauer Wien. This is a very rare sculpture from the 1st edition. Many with an African theme an "exotic" connotation that was a 20th-century remnant of colonialism. As you will see from this item we offer, Hagenauer was an artist-designer of great talent and many moods.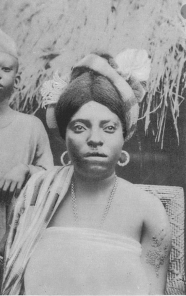 Hagenauer was an important and popular name in the decorative arts in Vienna in the decades bracketing the Second World War. While primarily a maker of sculptural decorative pieces, Hagenauer also created a wide array of household objects, from barware to office accessories, all designed with wit and a sleek modernist aesthetic.
The Hagenauer Werkstatte (studio)in Vienna was a business that included the father and his two sons produced a wide array of small-scale sculptures and decorative items during its 90-year history. Franz, the younger brother, who took over the family business when their father died was  a noted sculptor, with a style that could be described as Art-Deco-meets-Brancusi.)  He was very influenced by African arts, and the piece we offer here is emblematic of that motif. His career was a long one, and he was able to continue the Werkstatte into the 1980s.  It did close in 1987 but continues today as a museum.
Measurements
9.25″ T x 6.78″ D x 3.7/8″ W
Price (USD)
$ 4,500