Click to enlarge
Auguste Guénot, French Art Deco Sculptor 1924 Female Model 1st Edition
Item #3353
Auguste Guénot, French Art Deco Sculptor 1924 Reclining Female Model "Nymphe" 1st Edition. Influential artist with many monumental and public works. Auguste Guénot was born on October 25, 1882, in Toulouse (Haute-Garonne)  Son of a master cabinetmaker father, he began his apprenticeship in his father's workshop and perfected his skills with various craftsmen.  In 1895, he enrolled at the École des Beaux-Arts, then in 1899, he went to Paris.  He participated in the International Exhibitions of Decorative Art, the Colonial Exhibition of 1931, and the International Exhibition of 1937.
This remarkable sculpture is one of a kind. The artist proof, signed by the artist in 1924 in 4 places: name, date, 1st edition & Foundry. The bronze work is of the highest quality. The attention to all of the details, fingers, toes, robe, and attitude. This style exemplifies the beginning of the Art Deco period going from classicalism to a stylized Art Deco point of view. He is a very important and serious artist who accomplished a lifetime of important work and many commissions.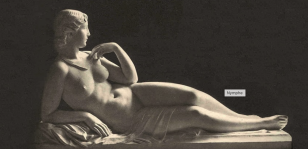 This link will take you to a complete biography of the artist.
Measurements
28″ wide X 16″ tall x 8″ deep
Price (USD)
$ 10,000